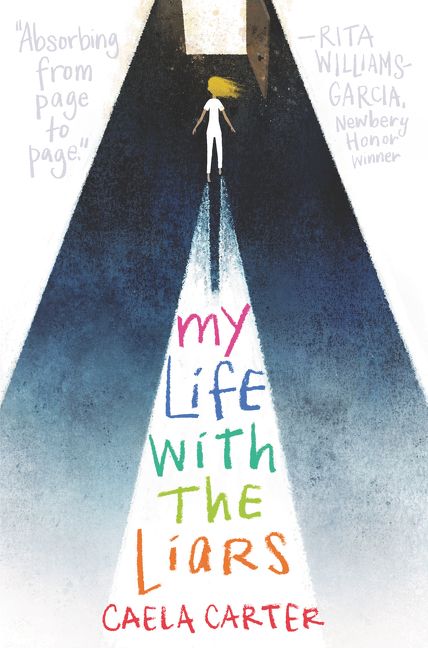 Image from HarperCollins.com
Zylynn has never been Outside. She has spent her whole life inside the compound of the Children of the Light. Now a man claiming to be her father is taking her out into the Darkness, a place she knows is full of liars and the temptations of Curiosity. Zylynn knows everything she sees, touches, hears, and tastes is a lie. She must get back to the compound by sunset on her thirteenth birthday or the man known as Father Prophet will ban her forever from the Children of the Light. But the more she lives with her father, his wife, and her three step-siblings, the harder it is to give everything up to go back. Set in modern day Arizona, this story focuses on the effects a fictional cult commune has on an impressionable and eager-to-please young girl. The narrative toggles between Zylynn's first person, present tense account of life Outside and shocking memories of her childhood inside the compound. The predictable ending reveals Father Prophet to be greedy, controlling, and harsh, the opposite of what Zylynn was raised from infancy to believe, but the writing makes this a gripping page-turner. Based on accounts of real cult survivors, but never dipping into salacious or mature content, this is a great recommendation for tweens who are nearly (but not quite) ready to make the leap to edgier YA novels about cults.
Recommended Age/Grade Level: Age 10+/Grade 5+
Image from RandomHouse.com
True Winter is a once-in-a-lifetime event that goes beyond normal winter. The fish are frozen in the ocean, there are fifty different types of snow, and best of all, there is the Great Northern Race. The first sled to reach the magical Snowfather gets a wish. Shen is a cabin boy until the frozen ocean wrecks his ship. He and the cargo (66 energetic pugs) are abandoned in the snow. Luckily, a local girl named Sika rescues the boy and all the dogs. Sika and Shen decide to enter the race on a sled led by the 66 pugs. Armed with advice from Sika's very, very old grandfather, the new friends set off for an adventure filled with addictive yeti noodles, massive Kraken, and treacherous ice. The illustrations, using only blues, whites, and blacks, are integral to the story. The quirky characters--Captain Jeggings, Professor Shackleton Jones, Sir Basil Sprout-Dumpling, and more!--are delightfully madcap in actions and images. The combination of text and illustrations make this a wonderful recommendation for graphic novel fans.
Recommended Age/Grade Level: Age 8+/Grade 3+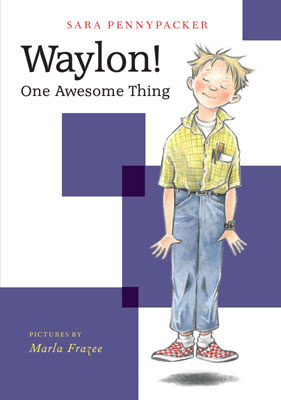 Image from SaraPennypacker.com
9-year-old Waylon is constantly observing the world, looking for ways to make things better using science. Unfortunately, there's a lot that science can't explain, like why the boys in his class are dividing into team or why his sister, formerly known as Charlotte Bronte Zakowski, wears nothing but black and insists that everyone call her Neon. Sometimes the only thing that keeps Waylon from disappearing is taking the time to sit and listen to the sounds of his own body. Waylon tries hard to think of an OAT (One Awesome Thing) every day, but lately it's been hard. Set in present day Massachusetts, this series is a spin-off from Pennypacker's popular Clementine series. The episodic stories of Waylon's days in school and at home are interspersed with Frazee's illustrations, perhaps a little less crisp than in Clementine, but still endearing. Clementine herself makes a brief cameo.
Recommended Age/Grade Level: Age 8+/Grade 3+