Image from BethFantaskey.com
Houghton Mifflin Harcourt, 2016
(Reviewed based on an advance reader's copy)
10-year-old Isabel wants to be a reporter when she grows up (just like the famous Maude Collier!)but for now she's selling newspapers for the Chicago Tribune. One night while selling papers she hears a gunshot. When she rushes down an alley, she finds her dear friend Miss Giddings standing over the dead body of a gangster. Spunky and intelligent Isabel sets about proving Miss Giddings innocence with the help of her new and very unlikely friends. The a
uthor's historical note includes information on the female reporters who inspired this story. This historical fiction mystery set in 1920's Chicago features an action-packed plot, great friendships, and compellingly strong female characters. Great for fans of Chasing Vermeer, The London Eye Mystery, and The Misadventures of Maude March.
Recommended Age/Grade Level: Age 9+/Grade 4+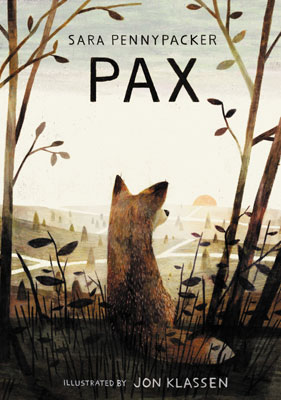 Image from SaraPennypacker.com
Pax by Sara Pennypacker, illustrated by Jon Klassen
Recommended Age/Grade Level: Age 10+/Grade 5+
Themes of friendship, loyalty, war, nature, and humanity.
In this beautifully sad, yet hopeful story, Peter is forced to leave his beloved pet fox Pax to fend for himself in the forest. There's a war coming, so Peter's stern, angry father is joining the military. This means Peter must move in with his equally closed off grandfather in a town hundreds of miles away. Heartbroken and guilty over the loss of Pax, Peter embarks on a life-changing journey to find his best friend. Along they way he meets a mysterious hermit of a woman who teaches him patience. Without knowing it, he teaches her the importance of community and human connection. Klassen's somber greyscale illustrations add to the feeling of isolation and vulnerability. Set in an unnamed time and place the immediacy and danger of war looms throughout this story of friendship. The third person narration alternates between Pax and Peter's perspectives allowing the reader to know more than any one character. Although the story is contemplative and poignant, the pacing never lags. Spoiler alert: Pax doesn't die, but other animals do.
Recommended Age/Grade Level: Age 10+/Grade 5+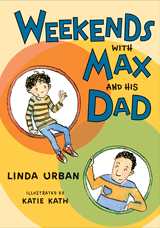 Image from hmhco.com
Houghton Mifflin Harcourt, 2016
(Reviewed based on an advance reader's copy)
Thoughtful and imaginative 8-year-old Max's newly divorced father has moved into a new apartment in a new neighborhood. Max isn't sure what to expect when he visits his dad on the weekends, but before he knows it he's making friends all over the neighborhood. He brings the diverse and talented residents of the apartment building together for a surprise talent show and delights in funny ditties sung by the jovial ukulele-strumming owner of a nearby diner. In between making friends, Max and his loving and humorous father play spies, work on homework, sing, and eat lots of pizza together. Three episodes, each taking up several chapters, are set in Michigan on consecutive weekends. Kath's attractive illustrations provide context for new ideas and vocabulary. The difficult issue of divorce is handled with a light tough. Max ultimately realizes that he can have two homes—one with his mom and one with his dad. He learns that both homes can be comforting, and most importantly, full of loving friends and family. The illustrations combined with short chapters and a small cast of strongly developed characters make this a great transitional chapter book. Fans of Alvin Ho, Clementine, and Lulu will find a new friend in energetic Max.
Recommended Age/Grade Level: Age 6+/Grade 1+
Image from KatrinaNannestad.com
When Mischief Came to Town by Katrina Nannestad
Houghton Mifflin Harcourt, 2016
(Reviewed based on an advance reader's copy)
Nothing is ever the same on the quiet Danish island of Bornholm after vivacious 10-year-old Inge Maria arrives on her grandmother's farm. She has a special brand of life and humor inspired by the tales of Hans Christian Andersen and expanded upon by her vast imagination. At first Inge Maria isn't so sure about her stern grandmother, but she's able to peel away her rough exterior to find the joy inside. Episodic chapters follow our plucky heroine's adventures as she starts at a new school, tries to be devout at church, almost kills a turkey, and catches the island thief. Bit by bit it is revealed that Inge Maria's mother has died and that's why she had to leave Copenhagen. This plot point is touched upon gently and briefly throughout, but never dampens the high spirited fun. This romp of a story is an excellent choice for family read aloud or for young precocious readers.
Recommended Age/Grade Level: Age 8+/Grade 3+