Image from Scholastic.com
"You either see it or you don't."
This book explores the power of stories. Stories that empower us, stories that protect us, stories that help us survive. The book opens in 1766 with a ship at sea. On board is a boy named Billy Marvel. The mostly wordless grayscale pencil drawings follow Billy through a shipwreck, into his career in theatre, and then through several generations of Marvel men. The detailed cinematic images employ close ups and wide shots to draw the reader's attention. The first section ends in a wall of flame and a cliffhanger as readers are cast adrift into Joseph's story set in London in 1990. The images have been replaced with text and for quite some time it's unclear how these two stories overlap. However, as each piece of the puzzles is revealed the connections between the two stories become stronger. The story finishes with a wordless, visual conclusion leaving the reader wondering exactly how much the stories overlap. The afterword includes more information on the inspiration behind the book.
This is a story about stories and the characters are strongly developed and compelling. The relationships are complex and poignant. The illustrations are rich with details and symbolism that will make subsequent readings thrilling.
Recommended Age/Grade Level: Age 10+/Grade 5+
Image from SarahWeeks.com
Pie
by Sarah Weeks
Alice's wonderful and loving Aunt Polly was known for her pies. She didn't just make pies at home, she started a pie shop where she gave the pies away for free! So when Aunt Polly suddenly dies, Alice, as well as the small town of Ipswitch, PA, are at a loss. Unfortunately, Alice hasn't inherited her aunt's pie-making talent, but she does inherit Aunt Polly's grumpy cat, Lardo. And it turns out Aunt Polly left her top secret lighter-than-air piecrust recipe to Lardo. It seems there's a sinister someone who is willing to do just about anything to get their hands on that recipe and it's up to Alice and her friend Charlie to stop them.
Set in 1955 , this historical fiction title is as warm and comforting as a slice of pie. Each short chapter starts with a recipe for pie mentioned in the text. Although Alice struggles to communicate with her unhappy parents and also deal with her grief, the story focuses more on the crime-solving elements of the plot. A small cast of quirky, but loveable characters and realistic dialogue make this a sweet read aloud.
Recommended Age/Grade Level: Age 8+/Grade 3+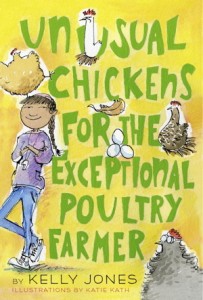 Image CuriosityJones.net
When her family inherits her Great-Uncle Jim's farm, 12-year-old Sophie Brown never imagines it might lead to rising chickens, much less unusual chickens. What's so unusual about them you ask? The Bantam White Leghorn can levitate things, the Barred Plymouth Rock can disappear, and the three Speckled Sussex are quite handy with a typewriter. Unfortunately, Sophie's not the only one who finds unusual chickens fascinating. Can Sophie keep her chickens alive and on the farm?
This realistic fiction with a touch of magical realism is written in letters, posters, and the occasional chicken raising quiz. Eager and hard-working Sophie is a compelling protagonist as she fights to protect her chickens. Cultural markers of Sophie's mixed race family (her father is White and her mother is Mexican-American) are woven into the narrative. Kath's hilarious black and white illustrations keep even the most serious parts of the story lighthearted. Recommend this book to urban and rural chicken lovers alike.
Recommended Age/Grade Level: Age 8+/Grade 3+
-Amy