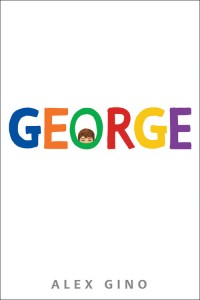 Image from AlexGino.com
George
by Alex Gino
(Reviewed based on an advance reader's copy)
George has always felt like a girl, ever since she can remember. Unfortunately, everyone else looks at her and sees a boy. So when George's teacher announces auditions for the 4th grade play, Charlotte's Web, George just knows she has to play Charlotte. If she plays Charlotte she'll finally be able to be seen as a girl. And if people could see her like that maybe they could see the real George. Luckily, Kelly, George's best friend, hatches a plan to make George's dreams come true.
This realistic fiction story focuses on a shy, but endearing protagonist. Written in third person from George's point of view, George is always referred to in the feminine form in the narration. This book is not only notable for having believable characters and dialogue, but also because there are few books about transgender children as young as George. The story is reminiscent of Gracefully Grayson, but for a younger audience. Although George's mother is initially resistant, by the end of the story she realizes that George's happiness is the most important thing. However, this doesn't mean that the transition for the family will be smooth. Use this title to begin a discussion on identity and gender. Information within the story about transitioning genders is accurate and age appropriate. I hope the published edition will include back matter with further resources.
Recommended Age/Grade Level: Age 8+/Grade 3+
Image from Boom-Studios.com
Lumberjanes: Beware the Kitten Holy by Noelle Stevenson & Grace Ellis, Illustrated by Brooke Allen
1% Lumberjane field guide and 99% awesome, this graphic novel follows the adventures of five diverse and distinctive girls during their summer at Miss Qiunzella Thiskwin Penniquiqul Thistle Crumpet's Camp for Hardcore Lady-Types. It's a good thing these girls have lots of energy, intelligence, and outdoor know-how because something's not quite right at the camp. Magic foxes, secret codes, underground chambers, hipster yetis, and possessed scouting lads not quite right. And it's a good thing the girls have each other and always follow the Lumberjane motto, "Friendship to the Max!", because who knows what will happen next!
Filled with snappy dialogue and fast-paced action this graphic novel zips along at a frenetic clip. The characters are unique, resourceful, and hilarious. The badges, "The Up All Night Badge: Learn What Goes Bump in the Night", "The Naval Gauging Badge: Because Drowning is a Scary Way to Go" and "The Pungeon Master Badge: The Best Kind of Punishment", are just an example of the quirky humor. The ending is abrupt, but this will leave readers begging for volume two.
Recommended Age/Grade Level: Age 10+/Grade 5+
Image from JessicaLawsonBooks.com
Nooks & Crannies
by Jessica Lawson
11-year-old Tabitha Crum has a pretty miserable life. Her parents dress her in rags, force her to do all the chores, and have just announced they will be sending her to live in an orphanage while they go abroad. She's teased at school and her only friend is a mouse named Pemberley. But all that changes when Tabitha and her parents are invited to spend the weekend at the estate of the mysterious and seldom seen Countess of Windermere. Five other children and their parents have also been invited. Why have they been invited? Is the estate haunted? Why are the children vanishing one by one? It's a good thing that Tabitha likes to read mystery novels. She's going to need all the help she can get to solve this mystery!
Although it is set in Edwardian England, the characters and dialogue in this page-turning mystery have a modern feeling. Some elements of the mystery are easy to piece together, while others remain elusive until the final reveal. The vocabulary is vast and each chapter begins with a quote from a (fictional) Inspector Pensive novel, which Tabitha knows by heart. Fans of Roald Dahl will be delighted to find this readalike complete with dastardly parents and resourceful children who save the day. Recommend this book to a reader looking for a cozy and engrossing read.
Recommended Age/Grade Level: Age 9+/Grade 4+
-Amy