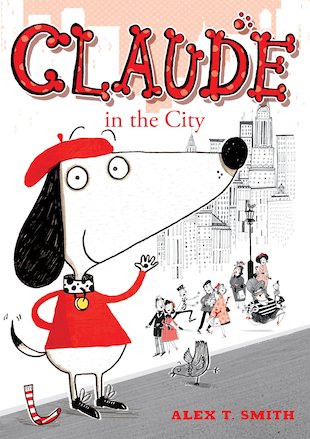 Image from Scholastic.co.uk
Claude in the City by Alex T. Smith
Peachtree, 2013
9781561456970
Claude is a small dog who loves to explore the city with his best friend Sir Bobblysock (who is both a sock and quite bobbly). Claude and Sir Bobblysock live with Mr. and Mrs. Shinyshoes. Everyday they pretend to sleep until the humans leave and then they choose an adventure for the day. Their escapades take them all over the city from art museums to cafes, hospitals to beret boutiques. No matter where they go, the two friends are always ready to try something new or lend a hand with hilarious results.
This humorous animal story was originally published in Great Britain in 2011. The text is fast-paced and filled with punny situations. The digital illustrations use a palette of black, white, red, and pink to bring Claude's whimsical world to life. The chapters are short with plenty of illustrations breaking up the page, making this title a good one for transitional readers or for a family all-ages read aloud.
Read more about Claude and Sir Bobblysock:
Readalikes:
Recommended Age/Grade Level: Age 7+/Grade 1+
Image from ElisePrimavera.com
Ms. Rapscott's Girls by Elise Primavera
Dial Books for Young Readers, 2015
9780803738225
(Reviewed based on an advance reader's copy)
It's a blustery day and Ms. Rapscott, Headmistress Extraordinaire of Great Rapscott School for Girls of Busy Parents, is eagerly looking forward to meeting five new students. As the girls arrive by flying cardboard boxes, Ms. Rapscott and her corgis, Lewis and Clark, greet each one. There's Mildred (Known for Being Lazy), Fay (Known for Not Being Able to Do Anything Right), Annabelle (Known for Being Old for Her Age), and Bea (Known for Being Loud). But that's only four! Where's the fifth student, Dahlia Thistle? Unfortunately, she got lost on her way to school. So it's up to Ms. Rapscott to teach her new students to Find Their Way, as well as Dahlia. Of course, the only way to learn to Find Your Way is to become Lost on Purpose and that involves the Skysweeper Winds, the Seaskimmers, and magical bumbershoot trees!
This story is a whimsically magical journey from reluctant students to fast friends. Ms. Rapscott and her two silent corgis take the girls on incredible adventures, that Ms. Rapscott adamantly denies or else immediately forgets. The challenges of having too-busy parents is touched upon lightly, but Ms. Rapscott is always quick to remind the girls that just because their parents are busy, that doesn't mean they don't love their children. The pencil illustrations are sweeping and cinematic. Written in third person, the story, although completely unbelievable, is a delightful romp that will be especially attractive to fans of Mary Poppins and Nanny McPhee. This would also be a fun family read aloud. The ending is satisfying, although it leaves the story open for sequels.
More books by Primavera:
Readalikes:
Recommended Age/Grade Level: Age 8+/Grade 3+
Image from HarperCollins.com
Listen, Slowly by Thanhhà Lại
HarperCollins, 2015
9780062229182
Twelve-year-old Mia's parents are 100% Vietnamese, but Mia is 100% Laguna Beach, California. She's always been told to be proud of her heritage--her parents even gave her a bicultural name; She's Mia in English and Mai in Vietnamese--, but she hasn't spent much time thinking about it. Until the day she finds herself on a plane to Vietnam with her father and her grandmother, Bà. She'd much rather be on the beach with her BFF Montana trying to get a glimpse of HIM, but instead she is Asian-parent-guilted into accompanying Bà on her journey to find out what happened to her husband, who was lost in the Vietnam/American War. Although Mai begins her summer scheming to escape back to California, over time she begins to grow closer to her family and her Vietnamese roots. She might even learn to read Vietnamese!
Mai's first person narration (she's called Mai for the majority of the book, so that's how I will refer to her in this review) is humorous, sarcastic, and filled with slang ("OMG!"). It's undeniably American. Although she comes to appreciate and value her heritage, it is clear she will never completely lose her Americanness. Vietnamese words and cultural markers, including foods, dress, societal norms and expectations, are seamlessly integrated into the text. The setting is vividly described and each character is strongly developed throughout the story. A helpful map of Vietnam and surrounding countries is including at the beginning of the book. Although the themes of confronting a new culture and dealing with the fallout from the Vietnam/American War are also present in Lại's previous book, Inside Out and Back Again, this book looks at them through a more modern and American lens. Have your class or book club read both and then compare and contrast the two stories and protagonists.
More by Lại:
Readallikes:
Recommended Age/Grade Level: Age 10+/Grade 5+
-Amy