Image from Candlewick.com
The Children of theKing by Sonya Hartnett
It's 1938 and 12 year old Cecily is secretly rather glad that she's being evacuated from London to her Uncle Peregrine's country estate. Heron Hall is even better than usual because she's not just with her mother and older brother, but with the evacuee she was allowed to pick out at the train station. Cecily is delighted with 10 year old May, until she realizes that just because you pick someone it doesn't mean they have to do what you tell them. May and Cecily might have different ways of looking at the world, but both are equally mesmerized when they stumble upon the mysterious and out-of-time Snow Castle and the two boys hiding inside the crumbling walls. They're also enthralled with Uncle Peregrine's story of the castle's past. But as World War II escalates, the children start to notice that the past and present are eerily similar.
Originally published in Australia in 2012, this historical fiction story explores themes of bravery, nobility, war, death, power, and duty. The narrative is written in third person from Cecily's innocent and, more often than not, willfully ignorant point of view, which helps to soften the heavy themes. Although Cecily is a privileged and sheltered protagonist, Hartnett imbues her with such eagerness that readers will root for, rather than against, her as her eyes are opened to reality. The principle characters are three dimensional, flawed, and fascinating. Although the adults in the story care for the children, they are detached and often absent. Therefore, the children have their own world, set apart, that only overlaps with the grown-ups at meal times. Cecily's older brother Jem struggles to reconcile his youth with his ideas about bravery, duty, nobility, and war. Hartnett skillfully weaves in the real-life story of the imprisoned Princes in the Tower (Edward and Richard). This story is haunting and allows the characters to think about power as a driving force not just in the 15th century, but during WWII, as well. In addition, the narrative is introspective and full of achingly beautiful descriptions of people, places, and emotions. Recommend this book to historical fiction fans, especially those kids who are fascinated by WWII. Readers will find some background knowledge about WWII helpful as historical events are not always fully explained in the text.
More middle grade chapter books by Hartnett:
Readalikes:
Recommended Age/Grade Level: Age 11+/Grade 6+
Image from HarperCollinsChildrens.com
The Islands of Chaldea by Diana Wynne Jones (Completed by Ursula Jones)
12 year old Aileen has always lived on the northern island of Skarr. She never dreamed that she would see the flatlands of Bernica or the musically, magically beautiful Gallis. And the magical force field separating Logra from the other islands made her very certain she'd never see that island. Having just failed her initiation as a Wise Woman, Aileen doesn't think she's fit to do much of anything. But little does she know the plot is growing around her that will send her on a dangerous and amazing journey to all the Islands of Chaldea to achieve the impossible. Along with her practically perfect aunt, her childhood friend Ogo, the arrogant Prince Ivar, a sometimes invisible cat, a talking bird, and more friends, Aileen learns that she has more magic inside her than she ever imagined.
Published posthumously and finished by her younger sister Ursula Jones, this fantasy story is a unique and enthralling twist on the classic questing plot. Aileen is a spunky and strong female protagonist and her first person narrative is humorous and descriptive. The cast of characters are unique and flawed allowing for witty dialogue and high drama situations. Diana Wynne Jones was known for her highly complex fantasy worlds, and her final books is no exception. As the plot, full of thrilling twists, surprising revelations, and magic galore, unwinds readers are immersed in the magic of the Islands of Chaldea. A map of the islands is included and readers will find it very helpful as the characters travel the islands by boat, foot, donkey cart, and hot air balloon. The book concludes with notes from Ursula Jones about the portion of the book she completed and what it was like to finish a book started by her sister. This is a fantastic recommendation for young fantasy fans who are reading above grade level as there's merely a dash of romance and fairly tame magic battles.
More books by Diana Wynne Jones:
Readalikes:
Recommended Age/Grade Level: Age 10+/Grade 4+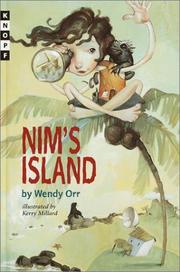 Image from OpenLibrary.org
Nim's Island by Wendy Orr, Illustrated by Kerry Millard
Nim lives on a small island in the middle of the ocean with her scientist father, Jack. She might not have any human friends, but she has plenty of animal ones. There's Selkie the sea lion who mothers her, the always hungry iguana Fred, and Chica the sea turtle who visits the island once a year to lay her eggs on the beach. But Nim's idyllic life is disrupted by two small things that end up changing Nim's life in a big way. First, Jack leaves the island to study algae in the ocean, but he's gone much longer than he planned. And then, Nim gets an email from the famous adventure story writer Alex Rover who turns out to be much different than Nim ever imagined. Will Jack ever come home? Can Nim survive on the island on her own? Can she keep the island hidden from the savage Troppo Tourists?


This great family friendly survival story will thrill science buffs and animal lovers alike. The short chapters are fast paced and action oriented. Additionally, the story focuses around one central plotline, making this a wonderful choice for younger readers. The narrative is written mostly in third person, with the occasional email between Nim and Alex to propel the plot forward. Nim and her father are very close, even if Jack is absent from the island for most of the book. It is also notable that Nim is homeschooled by choice, as well as necessity. She has a positive homeschooling experience, learning practical and academic skills, and continues to be homeschooled when the story concludes. The cartoonish illustrations compliment the vibrant and often exaggerated characters that inhabit Nim's world. The illustrations provide visual interest and context. They also breakup the print on the page, making the book seem more appealing to readers transitioning to chapter books. An illustrated map is included, which readers will find helpful as they follow Nim around the island. Grab this book for your next family read aloud or pick up the audio book (less than 3 hours long) for your next day trip by car.
More by Orr:
Readalikes:
Recommended Age/Grade Level: Age 6+/Grade 1+
-Amy