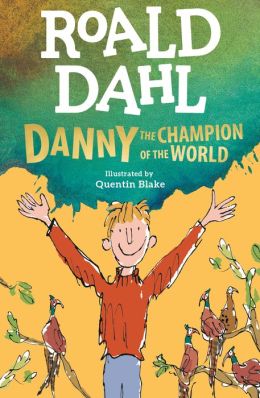 Image from BarnesandNoble.com
Penguin Young Readers Group,1975
9780142410332
SUMMARY
9 year old Danny lives with his father in an old gypsy caravan behind his father's filling station in the English countryside. His father not only teaches him how to be a first rate mechanic, he also makes Danny wonderful kites and other inventions. The two have such a lovely life together that even though Danny has lots of school friends, he never brings them home. But one day his father reveals a dark, but exciting, secret, changing Danny's world forever. Danny can't believe his beloved and "sparky" father could be involved in such secret dealings. But soon Danny and his father hatch a marvelous plan that will have the mean, horrible, and egotistical Mr. Victor Hazell in fits of hysterics.
The mixture of suspenseful and touching moments makes this realistic story, with just a hint of magic and "spark", a memorable read. Set sometime after WWII, but long before cell phones and computers, this character-driven story is full of humorous descriptions. Imagination, innovation, and ingenuity are celebrated as Danny's great idea is put into practice. In fact, it's Danny's brilliant idea that earns him the label of "champion of the world." Dahl's subtly funny narrative takes the reader on a thrilling adventure, a sort of 20
th
century Robin Hood story. As in many of Dahl's stories, it is the child protagonist who ultimately saves the day. Mr. Hazell holds an annual pheasant hunt to gain the favor of many rich and titled people, but Danny and his father come up with an ingenious method to remove as many pheasants as they can from Hazell's Wood. Although the plotline features a great poaching scheme, the relationship between father and son is the real highlight of this story. Danny's father clearly loves his son very much and there are many scenes of father and son enjoying each other's company in such a simple, but lovely way. Dahl fans will notice that one of the bedtime stories told by Danny's father is a snippet of
The BFG
. This is a great recommendation for a read aloud or for a father-son book club.
CONNECTIONS
*More books by Dahl:
*Readalikes:
RECOMMENDED AGE/GRADE LEVEL
Age 8+ / Grade 3+

-Amy