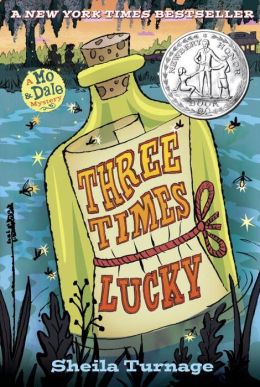 Image from BarnesandNoble.com
Dial, 2012.
978-0803736702
SUMMARY
Outspoken rising sixth grader Moses LoBeau lives in tiny Tupelo Landing, NC (pop. 148) with the fabulous Miss Lana and the gruff amnesia-stricken Colonel, the guardians brought to her by fate and luck. Lost in a hurricane as a newborn baby, Mo has spent her life searching for her unidentified Upstream Mother. Mo's ready to spend the summer fishing with her best friend, Dale Earnhardt Johnson III, avoiding her sworn enemy for life, Anna Celeste Simpson, and helping out at the café. But Mo's life changes forever the day trouble (and murder) comes to Tupelo Landing. The police arrive to investigate, but Mo knows they'll need all the help they can get to solve this case. Luckily, Mo is not only a borderline straight-A student, she's also an observant and quick-witted detective!
This is one of my favorite books of 2012 and I was over the moon when it was named a Newbery Honor Book for 2013. Turnage's unique characters, created with a generous dollop of southern charm, are believable, yet larger-than-life. Written from confident and spunky Mo's perspective, scenes are described in a humorous, yet realistic manner, particularly those involving Dale's alcoholic and abusive father. Although Mo's comebacks and observations are sharp, witty, and hilarious they never distract from the heart of the story. The carefully crafted murder mystery plot is full of surprising twists and suspenseful turns that will have readers enthralled right up to the satisfying resolution.
CONNECTIONS
*Mo spends her spare time writing her autobiography. Have kids write the introduction to their autobiography or the biography of a character from the book.
*Miss Lana likes to create different themes for the café, such as "1930's Paris" and "Café circa 1968." Have kids work in groups to come up with a theme and then create a menu and decorations to go along with their theme.
*Readalikes:
RECOMMENDED AGE/GRADE LEVEL
Age 10+ / Grade 5+
-Amy