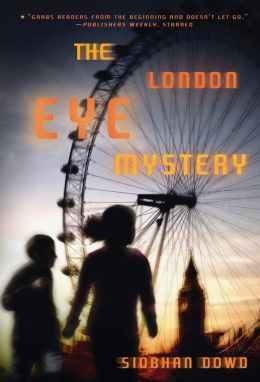 Image from BarnesandNoble.com
David Fickling Books, 2007
9780375849763
SUMMARY
Ted isn't sure what to think or feel when his Aunt Gloria and cousin Salim come to visit. They haven't come to visit for nearly 5 years and Ted is concerned because his father refers to his aunt as Hurricane Gloria. Ted's pretty sure he doesn't mean a hurricane of the weather sort, which would be far more interesting in his opinion. Diagnosed with Asperger's Syndrome, Ted is passionate about meteorology. His brain is "wired differently" and it isn't good at reading body language. However, it is good at thinking in a highly analytical and logical way, which is great for predicting the weather. It turns out it's also good for solving mysteries. Which is a very, very good thing because on Monday morning at 11:32am Ted and his older sister Kat watch Salim get on the London Eye and then he disappears. How does someone disappear from a glass capsule? Did he run away? Was he kidnapped? Is he lost? Ted comes up with several theories, but even if he and Kat figure out which one is correct will that lead them to Salim?
This realistic mystery has an intricate plot that is revealed intriguingly, bit by bit. The pieces are expertly sprinkled throughout the story and come together in an exciting and surprising conclusion. The narrative is written from Ted's perspective, giving the reader a glimpse into the inner workings of his mind. Although he doesn't go into detail, Ted accepts that having Asperger's Syndrome makes him think in a different way. While Ted is trying to solve the mystery of the disappearance of Salim, he also pushes himself to communicate, listen, and observe the world around him in new ways. Ted is an endearing and earnest protagonist, who will charm readers with his witty comments on common phrases. Slang terms and place names set this clever book in modern day London. Although American readers will encounter cultural differences, the love-hate relationships of Ted's family members are universal. This quick, but engaging, read is a great recommendation for mystery lovers.
CONNECTIONS
*Bring in pictures of the London Eye and other locations mentioned in the book. Check out the official
London Eye website
for more information.
*Bring in a
map of the London Underground
system and have kids follow the routes Kat, Ted, and Salim take in the book. You can do the same thing using a map of London for the rest of the book.
*Make a day by day timeline of events as you read the book and see if you can figure out the mystery before Ted pieces it together.
*Readalikes:
RECOMMENDED AGE/GRADE LEVEL
Age 9+ / Grade 4+
-Amy