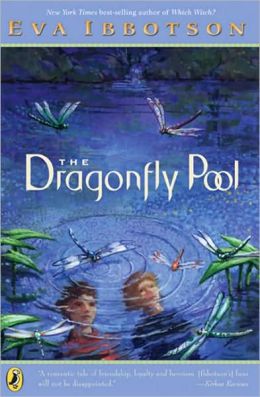 Image from BarnesandNoble.com
Dutton Children's Books, 2008
9780525420644
SUMMARY
It's 1939 and the threat of war is looming over 12 year old Tally Hamilton's life in London. So when Tally is awarded a scholarship at a boarding school her father knows he must take this opportunity for his daughter to live safely in the country. Tally has never been to a boarding school and she's terrified she will do or wear the wrong thing at the wrong time. But when she arrives at Delderton, Tally quickly realizes this school isn't like the ones she read about in books. There are no uniforms or strict rules at Delderton, instead the children are encouraged to be creative and curious. As Europe hurdles toward World War II, the headmaster of Delderton receives an invitation for students to be a part of an international folk dance festival in the small European country of Bergania. The headmaster is sure the students will decline the offer as none of them know any folk dances, but Tally, who recently saw a film reel about the beautiful country, somehow feels she must get to Bergania. Tally rallies her new friends and soon the Delertonians are off to the festival. But the trip doesn't go quite as planned. Bergania is thrown into chaos when the Nazis assassinate the king and it's up to the Deldertonians to help the young crown prince Karil escape from imprisonment.
Although this story is obviously one of good versus evil, Ibbotson handles these themes with grace, humor, and hope creating a compelling story. Published just a few years ago, there is nevertheless a quality to Ibbotson's writing that makes it feel as though it was written in the 1930's. Deftly mixing humor and heartfelt emotions, Ibbotson creates an engaging story of suspense, drama, friendship, and most of all, the difference each of us can make in the world. Although the children in the book are sometimes restricted by adults, it is through the collaboration and determination of the children that the day is saved. Ibbotson's characters are wonderfully unique and colorful. Tally, determined, optimistic, and loyal, is clearly the heroine of the story and the glue that holds her diverse gang of friends together. The book is divided into three parts, beginning with the building action in England, the happenings in Bergania, and finally what happens when all the children get back to England. The story ends with a satisfying epilogue 6 years after the story finishes that gives the readers a glimpse into the futures of Tally and Karil, their friends, and the fictional country of Bergania. I would recommend this book to historical fiction fans. Additionally, lovers of Greek mythology will enjoy the spirited production of Persephone put on by the Deldertonians.
I listened to the audiobook version, beautifully narrated by Patricia Conolly, and greatly enjoyed it. There is also a version narrated by Tracy-Ann Oberman, but unfortunately I lack the luxury of time to listen to both versions.
CONNECTIONS
*The children in the book put on a play of Persephone, so read the story from an anthology of Greek mythology. Try the versions in these kid-friendly collections:
*More books by Ibbotson:
*Readalikes:
RECOMMENDED AGE/GRADE LEVEL
Age 9+ / Grade 4+
-Amy