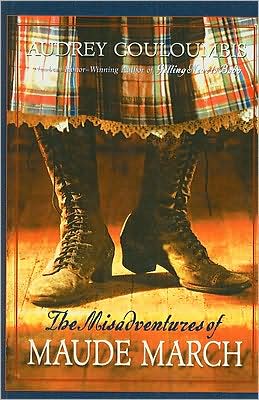 Image from BarnesandNoble.com
Random House, 2005.
0375932453
SUMMARY
Set in 1869, this rollicking, rip-roaring story follows the adventures of 11 year old Sallie and her 15 year old sister Maude as they go from respectable citizens of Cedar Rapids, Iowa, to range riders on the run. When their guardian, Aunt Ruthie, is killed by a stray bullet the sisters find it necessary to disguise themselves as boys and set off to find their long lost Uncle Arlen in Independence, Missouri. Along the way they find themselves in the middle of bundles of trouble, from bank robberies to blizzards, mountain lions to mistaken identities. Sallie can't believe her luck. It's like a story out of one of the dimers she loves to read! But even Sallie has to admit being a real range rider isn't quite as glamorous as the stories make it out to be. Will the sisters make it to Independence? What will they do if Uncle Arlen has moved farther west? And what should they do when they find themselves traveling with the notorious Joe Harden, Frontier Fighter?
This story is humorously told from tomboy Sallie's point of view. Short, episodic chapters combined with colorful descriptions and lively language make this a great book for reading aloud. Although Sallie as a character has a tendency to exaggerate, Couloumbis crafts a cast of realistic, yet memorable characters. A map at the beginning of the book allows readers to trace the sisters' route and the markings are intriguing, "Willie's Gang!" "The Rattler!" The acknowledgements that follow the story provide information on the resources used to find the historical details that make this story come alive.
CONNECTIONS
*Figure out how many miles Sallie and Maude traveled by looking at a map. How far would that be from your present location? How long would it take by car, train or bus?

*Write a short story in the style of the dimers Sallie loves so much. Use a character from the book as the hero or have students create their own protagonist.
*Read more about Sallie and Maude in the sequel:
*Readalikes:
*More chapter books by Audrey Couloumbis:
RECOMMENDED AGE/GRADE LEVEL
Age 9+ / Grade 4+