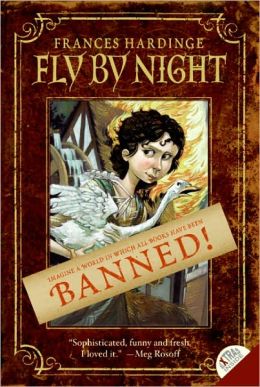 Image from BarnesandNoble.com
Harper Trophy, 2005
9780060876302
SUMMARY
12 year old Mosca Mye knows she needs to get out of the soggy rural town of Chough. Partly because she is hungry for more words than the tiny town can offer and also because she's just burnt down her harsh uncle's mill. Small and crafty, Mosca flees to the big city of Mandelion with an escaped con man, the lyrically verbose Eponymous Clent, and her loyal goose friend, Saracen. Very soon the trio find themselves caught up in a complicated web of spies and schemes, nobles and locksmiths, blackmail and mistaken identities. Through it all, Mosca continues to yearn for more words, a perilous desire in a world where the printed word is considered to be dangerous and maddening.
Hardinge's powers of description and detail bring Mosca's world to life in all its gritty and lively glory. According to Hardinge, the Fractured Realm is a "distorted, fairground-mirror version of the eighteenth century." This is not an idealistic world; the characters have personal motives that are not altogether nice. Therefore it's fitting that orphaned Mosca, although cunning and brave, is not always honest and must constantly question the trustworthiness of those around her. In addition to a gripping story, Hardinge addresses issues including religion, intellectual freedom, freedom of expression, the power of the printed word, class structure, politics, and war. Not for the faint of heart, I would recommend this to a strong reader with a great love of words and language who is ready to question the world around them. A great choice for readers straddling middle grade and YA fiction.
The edition I read included an insightful interview with Hardinge at the end of the book.
CONNECTIONS
*The printed word and the use of the printing press features prominently in this book. Research the history of the printing press and how it changed literacy. Demonstrate how a printing press works by using
rubber stamps
or create
artwork with Styrofoam trays and ink
.
*Many books are banned in the Fractured Realm because the printed word is considered dangerous. Use this book as part of a display or program for
Banned Books Week
.
*Read more about Mosca, Clent, and Saracen in the sequel:
*Readalikes:
*More chapter books by Frances Hardinge
RECOMMENDED AGE/GRADE LEVEL
Age 11+ / Grade 6+
-Amy