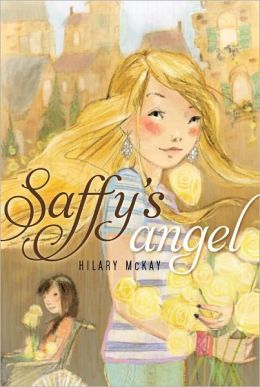 Image from BarnesandNoble.com
Margaret McElderry Books, 2005.
0689849338
SUMMARY
Everything changed the day Saffron Casson realized her name wasn't on the paint color chart in the kitchen of the Banana House. Her protective brother, Indigo, and her two sisters, animal-loving Cadmium and stubborn, artistic Rose, were all on the chart. Later that day Saffy learned that she was not only missing from the chart, but her brothers and sisters were really her cousins. Saffy's mother died in a car crash in Italy when Saffy was just 3 years old and after that she was raised by her aunt and uncle. No matter how much her family says they love her, Saffy feels like an outsider. When Saffy is thirteen her beloved grandfather dies and he leaves each grandchild an inheritance. "To Saffron. Her angel in the garden. The stone angel." As Indigo tries to cure himself of his phobia of heights, Rose paints an edible picture, and Caddy struggles to pass her driving test and school exams, Saffron and her new best friend, Sarah, set out to figure out about Saffy's angel. Where is it and how can they get it back?
Set in an unnamed British suburb, this book is an enthralling page turner. Although the plot is engaging, it's really the characters that make this book special. There's something enchanting about the artistic and free-spirited Casson family members as each one tackles life in their own special way. McKay's characters are unique and endearing, from determined and creative Rose to flighty Caddy. This book is also notable for including a three-dimensional supporting character, Sarah, who uses a wheelchair to get around. Written in third person, the sharp, humorous, and honest observations and conversations between characters make McKay's writing stand out from the crowd. On a personal note, I've read this book three times now and it never fails to entertain and engage.
CONNECTIONS
*Check out the
Teacher's Guide
published by Hodder Literature, which has an introduction by Hilary McKay and includes lessons and activities geared toward middle school students.
*This book is a fast read and would make a great book club choice. Take a look at the
discussion questions
provided by Scholastic.
*Make edible paintings as Rose does in the book. Bring in at least one food per color. You probably won't want to keep the paintings, so be sure to take pictures.
*Read more about Saffy and her family in the Casson Family Series books:
*More books by Hilary McKay:
RECOMMENDED AGE/GRADE LEVEL
Age 8+ / Grade 3+
-Amy