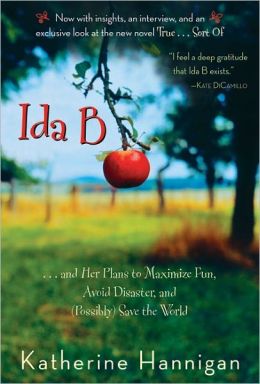 Image from BarnesandNoble.com
Scholastic, Inc. 2005.
978-0439837125
SUMMARY
Only child Ida B Applewood has figured out a routine that allows her to maximize the good, fun things in life. But her happy life as a homeschooler is disrupted when her mother gets sick. Not only does Ida B have to go to public school, she is devastated because some of the family's land, along with many of her beloved apple trees, is going to be sold to pay for the hospital bills. Ida B knows she has to come up with her best plan yet, one that will change everything back to righter than right once again.
This witty and poignant book is set on a farm in present day rural Wisconsin. Imaginative, creative, and intelligent Ida B is an independent only child and a spunky narrator. Hannigan doesn't shy away from dealing with the anger and frustration Ida B feels as she comes to terms with her mother's illness and the changes in her formally orderly world. The characters are three dimensional and Hannigan realistically presents their virtues and faults. Homeschooling and public schooling are presented and discussed, with the positive sides of each rising to the top.
CONNECTIONS
*Readalikes
Read other books with homeschooled protagonists. Compare and contrast the different methods of schooling. What subjects do the characters study? When do they study? How is it the same or different than your school?
Skellig
&
My Name is Mina
by David Almond
Ballet Shoes
by Noel Streatfeild
*Ida B's father tells her it's important to take care of the earth because it takes care of us. Tie this book in with a discussion about environmental issues. What are some of the ways Ida B takes care of the earth? What are some of the ways you take care of the earth? Check out Hannigan's
suggestions for (possibly) saving the world
.
*Check out the
reading group guide
published by Greenwillow Books for great discussion questions.
*More books by Katherine Hannigan:
RECOMMENDED AGE/GRADE LEVEL
Age 8+ / Grade 3+

-Amy